Wow, 2017 comes to a close. Some of this year was pretty awful, at least here in the US. And our current leadership won't be doing anything to address mass gun violence, climate change, and numerous other ills.
Yet hope and light continue to shine forth here and there. The #metoo movement is bringing some long overdue attention to pernicious, pervasive male behavior. I hope that some positive culture change comes out of it.
So in honor of #metoo, here's a tape of some badass Houariyat from Marrakech. This style of music just delights me. Raucous drumming and hearty, bawdy call/response singing. This joyful music is made by women, for women, to enjoy primarily among themselves.
Wishing goodness, blessings, and fulfilling grooves to you all in the new year!
Fatima el Houaria, Vol. 2
Safi Disque cassette, ca. 2001
1) Diggu Li L3youn Digga Roumiya
2) Douwaya Nhakoum Llah 3liya Rjaya f-Llah
3) Wa Mwaliya Ya Mwaliya
4) Farha f-Salatu 3a n-Nbi
5) Ma Khellali Ma Gal Fiya Klam L3ar
6) A Mwi Ya Dada, Wa Ya Lalla
Get it all
here
.
Here also are some great 2017 posts from the music blogosphere, sharing recordings of North African women's music:
Wallahi le Zein! - Unreleased DIMI mint ABBA from the late 1990s : Rissala
Fantastic, ecstatic, electric recording of a private concert of the late, great Mauritanian singer. And excellent notes about concerts and contexts from Matthew Lavoie, formerly of the
Music Time in Africa blog
.
http://thewealthofthewise.blogspot.com/2017/12/unreleased-dimi-mint-abba-from-late.html
ARAB TUNES: The Musical Heritage of Algeria : Teldja ثلجة
Deligtful compilation of tunes from the Algerian
chaoui
singer Teldja.
http://lazyproduction-arabtunes.blogspot.com/2017/09/the-musical-heritage-of-algeria-teldja.html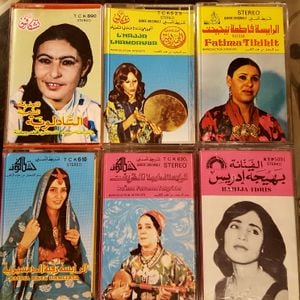 Maghreb Sharit No 6 - Moroccan Ladies of Tichkaphone and Koutoubiaphone
Latest in a continuing series of Moroccan mix tapes (produced on tape!), #6 is a compilation of songs from the Tichkaphone/Koutoubiaphone label.
https://www.mixcloud.com/MaghrebSharit/magreb-sharit-no-6-moroccan-ladies-of-tichkaphone-and-koutoubiaphone/
Gharamophone: Reinette l'Oranaise – Ya biadi ya nas – Polyphon, c. 1934
History of the song "Ya biadi ya nas", which became well known in Morocco and Algeria, as well as its first recording, by the great Reinette l'Oranaise.
Gharamophone
is Chris Silver's continuation of his earlier, fine blog
Jewish Maghrib Jukebox
.
https://gharamophone.com/2017/12/14/reinette-loranaise-ya-biadi-ya-nas-polyphon-c-1934/
K7 Maghreb: Cheikha Rahma [EHA 36]
KILLER! Most of the folk song styles I've heard from northwest Algeria/northeast Morocco features the raspy
gasba
flutes, like you would hear on recordings by Cheikha Remitti. This tape features the Algerian singer Cheikha Rahma, performing with an awesome double-horned, double-reed instrument that I believe is called a
zamar
. If you visit the blogpost, you'll find a great YouTube video showing Cheikha Rahma performing with one of these groups.
http://foundtapes.blogspot.com/2017/08/cheikha-rahma-eha-36.html
LATE-BREAKING ADDITION:
Bodega Pop: Spice Ray
Bodega Pop has returned with a great stash of cassettes recently obtained in Queens. This unusual cassette appears to be a Moroccan rai album credited to "Spice Ray" (the Moroccan rai Spice Girls?), and contains several songs that address social issues, including an opening track lamenting the death of children under bombs in Iraq.
http://bodegapop.blogspot.com/2017/12/spice-ray-spice-ray.html